Active Wingless Type MMTV Integration Site Family, Member 5A (WNT5A)
Overview
Properties
Product No.

APP549Mu01

Organism SpeciesMus musculus (Mouse) Same name, Different species.
ApplicationsCell culture; Activity Assays.


Research use only

DownloadInstruction Manual
Category

Signal transduction
Buffer Formulation

20mM Tris, 150mM NaCl, pH8.0, containing 1mM EDTA, 1mM DTT, 0.01% SKL, 5% Trehalose and Proclin300.

Traits

Freeze-dried powder, Purity > 95%

Isoelectric Point

8.8
Share your citation
Upload your experimental result
Review
Leave a message
Sign into your account
Share a new citation as an author
Upload your experimental result
Review
Please attach serial No. on instruction manual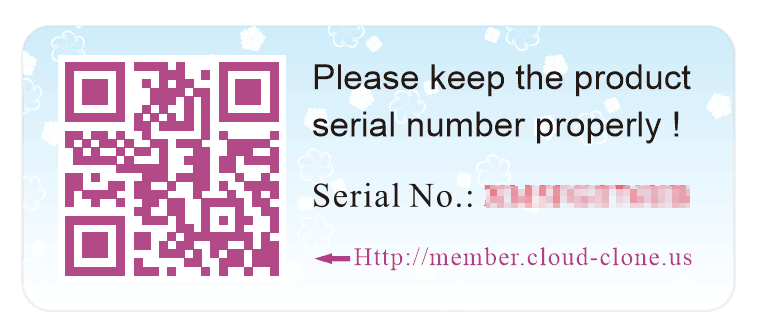 Contact us
Please fill in the blank.
Verification code*

Packages (Simulation)

Packages (Simulation)
Gene sequencing
SDS-PAGE

Figure. Western Blot; Sample: Recombinant WNT5A, Mouse.
ISO9001: 2008, ISO13485: 2003 Registered
Activity test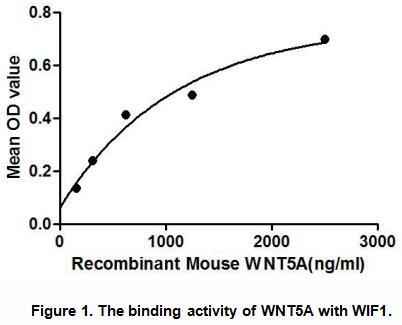 Wingless Type MMTV Integration Site Family, Member 5A (WNT5A) is a ligand for members of the frizzled family of seven transmembrane receptors. Can activate or inhibit canonical Wnt signaling, depending on receptor context. Stimulates cell migration. Decreases proliferation, migration, invasiveness and clonogenicity of carcinoma cells and may act as a tumor suppressor. Besides, WNT Inhibitory Factor 1 (WIF1) has been identified as an interactor of WNT5A, thus a binding ELISA assay was conducted to detect the interaction of recombinant mouse WNT5A and recombinant rat WIF1. Briefly, WNT5A were diluted serially in PBS, with 0.01%BSA (pH 7.4). Duplicate samples of 100uL were then transferred to WIF1-coated microtiter wells and incubated for 2h at 37℃. Wells were washed with PBST and incubated for 1h with anti-WNT5A pAb, then aspirated and washed 3 times. After incubation with HRP labelled secondary antibody, wells were aspirated and washed 3 times. With the addition of substrate solution, wells were incubated 15-25 minutes at 37℃. Finally, add 50µL stop solution to the wells and read at 450nm immediately. The binding activity of of WNT5A and WIF1 was shown in Figure 1, and this effect was in a dose dependent manner.
Usage
Reconstitute in 20mM Tris, 150mM NaCl (pH8.0) to a concentration of 0.1-1.0 mg/mL. Do not vortex.
Storage
Avoid repeated freeze/thaw cycles. Store at 2-8°C for one month. Aliquot and store at -80°C for 12 months.
Stability
The thermal stability is described by the loss rate. The loss rate was determined by accelerated thermal degradation test, that is, incubate the protein at 37°C for 48h, and no obvious degradation and precipitation were observed. The loss rate is less than 5% within the expiration date under appropriate storage condition.
Giveaways
Increment services