Cloud-Clone in vitro diagnostic reagent raw material
In vitro diagnosis(IVD) refers to the products and services that outside the human body, through detecting the human body samples (blood, body fluids, tissues, etc.) to obtain clinical diagnostic information, and then judge the disease or the body function. With the continuous development of science and technology, the in vitro diagnostic technique tends to be more and more simple, diversified, high throughput and precision. The development of in vitro diagnostic techniques is inseparable from the innovation of diagnostic reagents, which have gone through four technological revolution as chemical, enzyme, immunoassay and probe technology. Among them, the development of the immune detection reagent is most rapid, has gradually replaced the clinical biochemical reagent and become the main stream in the development of diagnostic reagents. The immune diagnostic reagent detects human samples based on the specific binding of antigen and antibody, which developes a variety of testing products and technologies such as immune detection test, ELISA detection kit, immunohistochemistry, and flow cytometry. The CLOUD-CLONE CROP has specialized in the production of immune reagents and related products for more than 7 years, having a series of antibody products can be used for in vitro diagnosis. The main features are as follows:
1. Strict product verification system
The antibody made by cloud-clone for in vitro diagnosis must pass three detection:Western blot (WB), immunohistochemistry (IHC) and ELISA, which strictly controls the quality of products.Now take the in vitro diagnostic antibody: human CST3 monoclonal antibody (Cat. No:RSA896Hu21) for example to illustrate.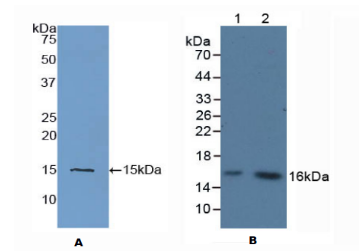 Fig 1. WB verification experiment
A Sample: Recombinant Human CST3 ; B Sample: Lane 1: Human Milk; Lane 2: Human Urine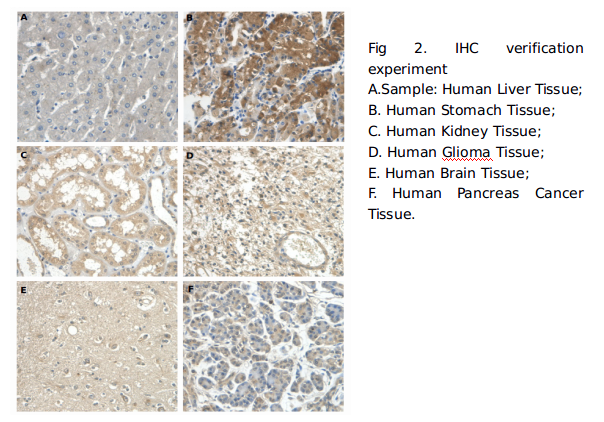 Chart 3. ELISA verification experiment

2. A wide range of uses
Cloud clone's in vitro diagnostic antibody can be widely used in the following experiments: chemiluminescence immunoassay; inhibition of immune turbidity; enzyme immunoassay; Radioimmunoassay; immunofluorescence analysis; immunohistochemistry; Western blot and a series of related experiments.
3. Widely used in the diagnosis of various diseases
At present, cloud-clone's in vitro diagnostic antibody, relying on its superior performance in all aspects, can be widely used in the field of diagnosis for various diseases, including the diagnosis, and can be widely used for various diseases, including kidney related diseases, hepatic fibrosis, cardiovascular disease, lipid metabolism related diseases, development related diseases, bone metabolism related diseases and such variety diseases detection.
More products, please visit: www.cloud-clone.us.